Casino betting Menominee style
I believe that maybe somewhere in the darkness
In the nighttime, In the storm
In the casino
Casino Spanish eyes
When Governor Scott Walker laid out the criteria for allowing a casino in Kenosha, I'm surprised the Menomonee tribe rolled the dice to try to meet them. The criteria were obviously written with no intention of being possible to meet. Nonetheless, the Menominee are trying to claim they have met the governor's requirements.
Expect Walker to still deny them his approval.
Should there be a casino in Kenosha? If we're going to allow casinos at all, then we should open up the opportunity to everyone. And like State Rep Duey Stroebel, I mean everybody. Stroebel wrote in an op-ed for RightWisconsin,

"Personally, if there is to be a new casino in Wisconsin, I would like to see the process opened up to anyone, Native American Indian and non-Native American Indian alike. Let's have a competitive process and take the proposal that best benefits all Wisconsin residents in terms of the state's share of revenue and all other factors that would contribute to economic benefit in Wisconsin. Let's specifically amend the state constitution to accommodate such a development. I am confident a statewide referendum in this regard would be successful."
"As a free market advocate myself, that process would much more closely resemble a free market situation, not the monopolistic scenario that is currently being dictated to us. In fact, other states with Indian gaming have or are in the process of expanding the industry to participation by both Native American Indians and non-Native American Indians."
Too late for the Kenosha proposal, perhaps, but something to consider.
Or we could do away with gambling entirely. The tribal casinos are the result of a federal court decision that said as long as there is a state lottery, we have to allow casino gaming on tribal land. Federal Judge Barbara Crabb reasoned that if the state can sponsor gambling, so can the tribes.
From bingo halls to slot machines to full-blown casinos, from tribal lands to off-reservation gaming facilities, the tribes' ability to feed the gambling vice has grown exponentially. With that growth there has also been an increase in gambling special interest money swirling through Wisconsin's elections. If you are uncomfortable with special interest money in elections, you really have to dislike tribal casino gaming.
Tribal casino interests have been mostly favorable to the Democrats. However, Republicans have made some recent gains in contributions from the tribes. The recent controversy over a proposed casino in Kenosha probably fueled contributions from both sides to the majority Republicans.
There was even a reluctance by some Republican leaders in the Assembly to take up legislation allowing local school districts to keep Native American mascots and nicknames for the school teams. The hope was to keep tribal gaming money on the sidelines during the next election cycle.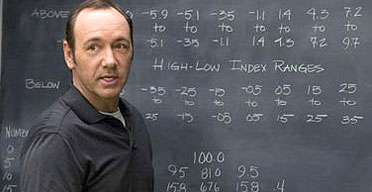 So all that said, is the corrupting influence of casino gaming really worth keeping the small lottery credit for property tax relief? Or would Wisconsinites be better off getting rid of the lottery and, along with it, Native American tribal casinos?
When it comes to gambling, Wisconsin's state government is in a weird hypocritical position. Gambling is illegal unless it's done for charity, or it's state-sponsored, or in a tribal casino. Anyone else that wants to take a wager faces fines and jail time.
I'm obviously not a prude when it comes to gambling. Everyone should know a bookie, and I'm no exception. I've been known to bet on the ponies and football. I'm not half bad at blackjack. I even know a little poker.
But it would be interesting to watch and listen to the commercials from Enough Already! if the legislature decided that the state's experiment in legalized gambling is just too expensive to continue.
Tony Soprano: I'm in the waste management business. Everybody immediately assumes you're mobbed up. It's a stereotype. And it's offensive. And you're the last person I would want to perpetuate it… There is no Mafia.
Meadow Soprano: Fine.
Tony Soprano: Alright look, Mead, you're a grown woman, almost. Some of my money comes from illegal gambling and whatnot. How does that make you feel?
Meadow Soprano: At least you don't keep denying it, like Mom. Kids in school think it's actually kinda neat.
Tony Soprano: They seen "The Godfather", right?
Meadow Soprano: Not really. "Casino" we like, Sharon Stone, the 70's clothes, pills…