Help Hillary Find a Theme Song Contest
I want to give everyone an update on our contest (details and rules here) and our 200,000 page view milestone.
First, we passed 200,000 sometime today, possibly a day or two earlier than I expected. I want to thank everyone for stopping by, even if they were just hoping to see a picture of Jessica Simpson. Will you settle for a picture of OJ Simpson instead?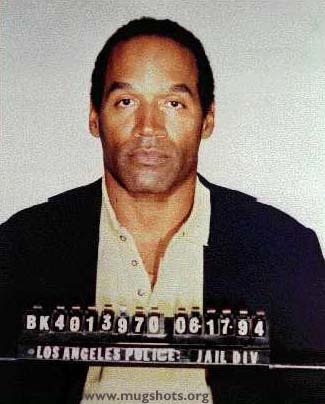 In all seriousness, thanks. We're still smaller than many blogs, but we're larger than a few, and we're having an impact. I say "we" because I'm only the messenger. Somebody has to actually do something, and quite often that somebody is one of my readers. Now do something useful.
Next, a contest update:
We're having so much fun trying to help Hillary Clinton find her theme song, we're going to run this contest through Friday at midnight. Doreen and I are going to have a tough time picking a winner. Note to Dave in SF, you get points for making a music video. You lose points because it's Sondheim.
To enter, make a comment for this blog post using a valid e-mail address, or send me an e-mail at WigdersonLibrary@yahoo.com. As entries are received I will post them as quickly as I can. If two people submit the winning song, it will be the entry that was received first.
Entries e-mailed so far:
"The Bitch is Back" by Elton John
"All By Myself" by Eric Carmen
Verdi's Dies Irae (Day of Wrath, O Day of Mourning)
Who's Sorry Now?
Everybody Ought To Have A Maid
Before He Cheats by Carrie Underwood
"Somebody Slap Me" by John Anderson
Entries from the comments so far:
"Hail to the Chief"
You're so Vain
Accidents will happen
Positively fourth street
It's my turn
Evil woman
"I Have Friends in Low Places" by Garth Brooks
Won't get fooled again
Sympathy for the Devil
"The End" – The Doors
"Everyone knows I'm in Over my head" by The Fray
"Devil With A Blue Dress"
"Theme from The Twilight Zone"
"Surrender" by Cheap Trick
"Run to the Hills" by Iron Maiden
Its the end of the world as we know it. (REM)