I know I should be doing some research right now on a writing topic or working on a proposal for somebody. I've been spending my time instead catching up on The Comics Curmudgeon. I may never read Beetle Bailey the same way again.


You probably thought that Sarge's sexual life — in which he is constantly fending off advances from Sgt. Lugg, while sublimating his forbidden lust for Beetle through acts of increasingly desperate violence — was pretty depressing. But that was before a coloring error made it appear that he was forced to endure sexual harassment from General Halftrack's wife.
I'm a closet Luann fan. I know, I know. But who knew it was so intellectual?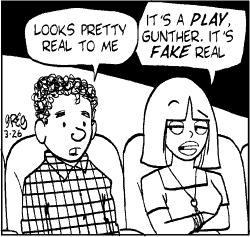 Here, Tiffany offers an intriguing analysis of the experience that staged drama brings to its audience; Brecht would be proud of this description of a play as both intensely real and transparently false.