The way Zielinski is screaming, you'd think I took away his Blatz and bar nuts
I struck a nerve with this article about the attempted smearing of Brian Sikma's reputation. I ;pointed out that it was not only an attempt to "get" Sikma and Media Trackers, it was an attempt to intimidate Wisconsin's conservative writers and activists.
I also pointed out that the tactic was similar to the former spokesman for the Democratic Party of Wisconsin, Graeme Zielinski. I even reminded the readers that Zielinski attempted to smear Sikma before with a libel about writing an article for a racist website, a charge that was (and is) completely untrue.
On Twitter this morning, Zielinski displayed all the ill temper of a rabid drunk pitbull terrier. The most recent post is on top. Notice how Zielinski repeats the libels. Quite frankly, I'm surprised Sikma isn't suing.
Of course, I had to laugh at the attacks on my personal appearance as, let's face it, Zielinski is no Adonis. Here's an example of the police dash cam getting his good side:

Yeah, what a prize physical specimen this guy is. Considering his twin is Otis from The Andy Griffith Show, you'd think he might show a little more restraint with the insults.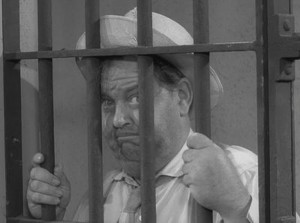 At the very least, someone should explain to him that consuming fermented hops and barley is not the same as eating a salad.
By the way, Democratic Party Chairman Mike Tate still has not answered how often Zielinski was drunk on the job as party spokesman. Nor has Milwaukee County Executive Chris Abele given a satisfactory explanation why Zielinski was on Abele's campaign payroll while spreading false stories about Milwaukee County Sheriff David Clarke.